Don Jagatala Kavi - Poet in two worlds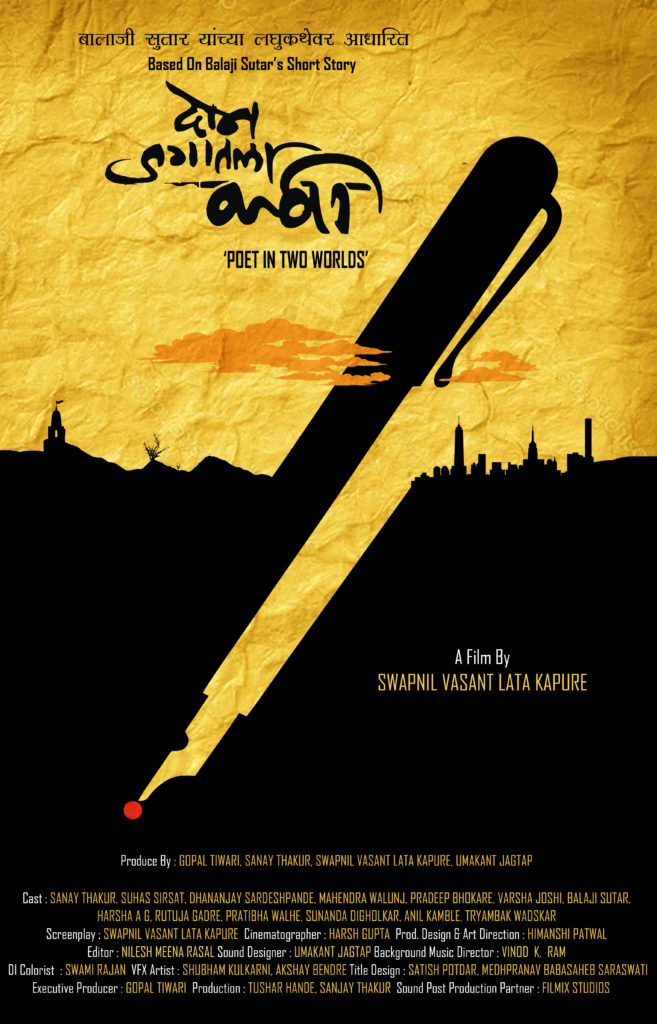 Raja is an unemployed youth who fails to secure a job. His passion for writing poetry adds to the fury of his father who expects Raja to at least work in their own soya bean farm. Once, Raja gets an invitation for a lit-fest in the city and a whole new world is unleashed to him. It is a platform where Raja expects his poetry to be appreciated. But at this very hour, the village is going through some unexpected incidences which make the whole surroundings hostile, especially to the farmers. Such unpredictable background has always pulled Raja back from stepping ahead. This time Raja prefers to chase his dreams, abandoning his rural and agrarian burdens. But this choice ensnarls him into the bitter reality of both these worlds.

Raja ist ein arbeitsloser Jugendlicher, der keinen Job findet. Seine Leidenschaft für das Dichten weckt die Wut seines Vaters, der von Raja erwartet, dass dieser zumindest in der familieneigenen Sojafarm arbeitet. Eines Tages erhält Raja eine Einladung zu einem Literaturfest in der Stadt und eine ganz neue Welt eröffnet sich ihm. Hier hofft Raja, eine Plattform zu finden, auf der seine Poesie gewürdigt wird. Doch genau zu dieser Stunde ereignen sich im Dorf einige unerwartete Zwischenfälle, wodurch die ganze Umgebung feindlich wird, besonders für die Bauern. Es waren immer solche unvorhersehbaren Ereignisse, die Raja bisher davon abhielten, auf seinem Weg voran zu schreiten. Dieses Mal zieht er es aber vor, seine Träume weiter zu verfolgen und die landwirtschaftlichen Verpflichtungen hinter sich zu lassen. Aber diese Entscheidung verstrickt ihn in die bittere Realität beider Welten.
Credits
---
Screnplay: Swapnil Vasant Lata Kapure Story: Balaji Sutar Cinematographer: Harsh Gupta Production Design & Art Direction: Himanshi Patwal Editor: Nilesh Meena Rasal Sound Designer: Umakant Jagtap Background Music Director: Vinod K. Ram DI Colorist: Swami Rajan VFX Artist: Shubham Kukarni Akshay Bendre Title Design: Satish Potdar Medhpranav Babasaheb Saraswati Costume Designer: Harsha A G Dialogues: Balaji Sutar Swapnil Vasant Lata Kapure Gopal Tiwari Poems: Balaji Sutar Gopal Tiwari Executive Producer: Gopal Shrinath Tiwari Production Manager: Sanjay Thakur Tushar Hande Arbaj Mulani Cast: Sanjay Thakur Pradeep Bhokare Varsha Joshi Patil Dhananjay Sardeshpande Harsha A G Mahendra Walunj Tryambak Wadaskar Sunanda Digholkar Anil Kamble Suhas Sirsath Senior Balaji Sutar Pratibha Walhe Rutuja Gadre  
Weitere Details
| | |
| --- | --- |
| Englischer Titel | Poet in two worlds |
| Orginalsprache | Marathi |
| Untertitel | English |
| Produktionsjahr | 2019 |
| Jahr der Einreichung | 2019 |
| Teilnehmer am Wettbewerb | Ja |
| Spielzeit | 29 min |
---
Stills