Thursday,
20 Juli
,the school day will be held as part of the 20th Indian Film Festival.
Pupils from grades 9 to 12 get an insight into the diversity of the festival programme and the Indian film landscape.
The school day programme consists of a film in the original language with English subtitles and a thematic introduction with a specialist speaker and a Q&A session with the filmmaker. Participants are invited to share their own experiences.
For the school programme we charge a ticket price of 5€ / pupil. From 20 young people, the group price of 4€ / pupil applies. Tickets will be charged on the day of the event at the festival box office according to actual numbers. Two accompanying persons are free. The regular ticket price applies for additional accompanying persons.
We would be very pleased to welcome you at the School Day. If you are interested, we will be happy to send you more detailed information.
The programme of the school day consists of a film in the original language with English subtitles, a lecture by expert speakers or filmmakers and an open question and answer session. In recent years, the focus has been on varied and relevant topics such as human rights, child labour, democracy or educational opportunities. Not only speakers from universities and aid organisations, but also the directors of the films were available for questions and suggestions.
The open exchange among each other is not only interesting for young and old, but above all important!
On Thursday, the 20th Indian Film Festival Stuttgart will once again transform the cinema hall into a classroom. The lessons in the cinema begin with a short introduction to the topic by specialist speakers. Afterwards, the schedule includes the screening of the film and a subsequent question and discussion session with filmmakers who are present or online.
School film 2022:

Writing with fire
Documentary India 2021 , 93 min, Hindi with English subtitles
Uttar Pradesh, India's most populous state, is known for its notorious levels of corruption, violence against women and brutal oppression of its minorities. A media dark region lightened up by Khabar Lahariya (KL), India's only digital news agency run by Dalit women, also known as the "low caste". With a team of 28 semi-literate, professionally trained reporters and 32-year-old Meera as the chief reporter of KL along with 20-year-old Suneeta as the only crime reporter in the region, this news agency fights for their independent voices and raises awareness on current issues. From a thousand views to cross 150 million views online, the video stories on corruption, violence against women, broken roads and inadequate public healthcare as well as corrupt nexus between mining mafia and politicians begin to become popular. The drastic shift of India's vibrant democracy towards a right-wing Hindu authoritarianism reinforced the self-censorship of most mainstream media houses and intensified the risk of journalistic work. While Meera and Suneeta struggle with systemic inequity, the dream of becoming a relevant independent regional news agency remains. The first time modern Dalit women are on screen, not as victims of their circumstances but as writers of their own destiny. 
It is the first Indian documentary to be nominated for an Oscar in the Best Documentary category.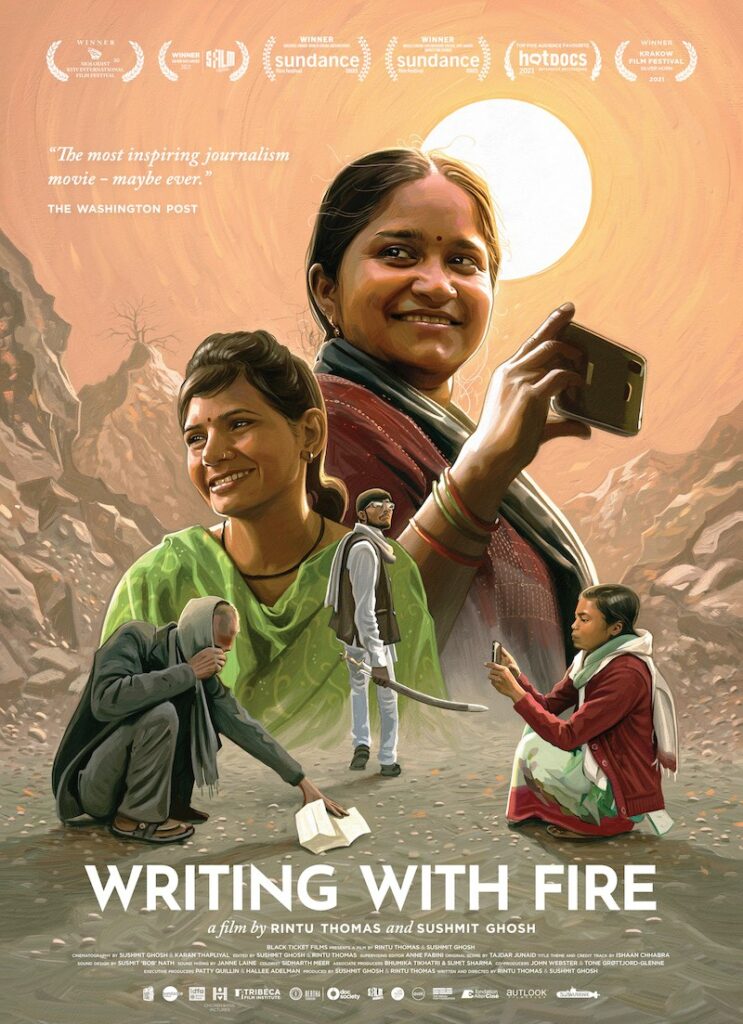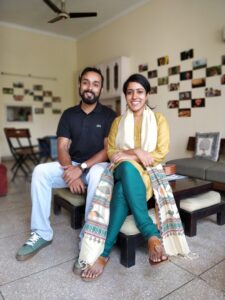 WRITING WITH FIRE
Directors:
Rintu Thomas and Sushmit Ghosh
are award-winning director-producers from India whose work has been supported by the Sundance Institute, Chicken & Egg Pictures, Tribeca Institute, Doc Society, SFF Film Fund, IDFA among others. Both are also Sundance Fellows, who enjoy producing films that have the power to create transformative social impact. In 2009, they founded Black Ticket Films, a production company invested in the power of non-fiction storytelling. Rintu Thomas and Sushmit Ghosh were recognised for their filmmaking work with a President's Medal in 2012, the highest honour given to filmmakers in India. Five years in the making 'Writing With Fire' is their first feature documentary. Married for six years, they live between New Delhi and the mountains.
The School Day 2022 was funded by the Fund for German film festivals de⁺ of the Goethe-Institut in cooperation with the German Federal Foreign Office.