Best Feature Film 2023: 'MAX, MIN & MEOWZAKI'
Padmakumar Narasimhamurthy
with 'MAX, MIN & MEOWZAKI'
Jury statement:
"
This year, we would like to break with an unspoken expectation of an Indian festival film by awarding a film that does not sorrowfully convey to us the country's often seemingly intractable problems, but instead takes an optimistic look at urban India. A film that tells with great ease an impressive range of important social issues of the modern Indian middle class.
In 'MAX, MIN & MEOWZAKI' by Padmakumar Narasimhamurthy, we experience strong women who no longer conform to the traditional Indian image of women but lead independent and self-determined lives. Women who break free from unfulfilling relationships and live out their sexuality freely. But also men who overcome their traditional roles, e.g. concerning the choice of profession or the religion of their partner. Through lovingly designed sets, emotional film music, elaborate montage sequences and the rousing acting, an atmospheric density unfolds that carries us from beginning to end and at the same time plays on the entire keyboard of emotions.
'MAX, MIN & MEOWZAKI' is in our eyes a very successful example of a film that tells the problems of modern Indian society with wisdom, humor, and a lot of optimism."
Best Documentary 2023: 'TO KILL A TIGER'
Rintu Thomas and Sushmit Ghosh
with 'TO KILL A TIGER'
Jury statement:
"Nisha Pahuja has succeeded in creating a cinematic masterpiece with 'TO KILL A TIGER'. Highly sensitive and relentlessly clear, Pahuja tells the story of a 13-year-old survivor of gang rape – and her father's fight for justice.
It impressively shows what it means to stand up for the rights of girls and women in a traditional village community and what immense pressure is exerted to protect the perpetrators.
The daughter's courageous decision and her father's perseverance are superbly captured by the emphatic camera and packed into a masterful dramaturgy by the outstanding editing.
An important film, which the jury awards above all because of the fantastic cinematic work of all the trades."
Best Short Film 2023: 'NOCTURNAL BURGER'
Reema Maya
with 'NOCTURNAL BURGER'
Jury statement:
"From its very first frame and off-screen dialogue, 'NOCTURNAL BURGER' engages us to connect deeply with the young girl at the centre of the story, who transcends the role of victim. Subtle and intriguing details about each of the well-thought-out characters provide multiple layers of meaning and ensure that they stay in the audience's mind even after the film concludes. The brilliant cinematography and outstanding performances intensify the atmosphere of depression and fear, particularly through the character of the police officer. The flashbacks of the witness subtly portray similar experiences of rape, heightening the intensity of the film.
The film's bravery lies in its trust in the audience's ability to think and draw their own conclusions. It explores nuanced themes with an unpretentious style that fearlessly incorporates situational comedy. We also commend the director for skilfully balancing form and substance, presenting a story of abuse in a manner that invites the audience to engage with this timeless issue in a fresh and resonant way."
"
Best TVC 2023: 'MENTAL HEALTH'
BAUDDHAYAN MUKHERJI
with 'MENTAL HEALTH'
"The play within the play is surprisingly fascinating with just such a new twist. The protagonist, a credibly affected person, virtuously develops a lesson for his acting students in play scenes. The outcome is unclear. Only at the end of the increasing playfulness in the acting class and in the narrations of the scenic acting exercises does it become clear that it is about depression and the cover-up tactics to protect oneself from society.
The viewer is insistently shown to pay attention to himself and his fellow human beings in order to recognise the first signs and be able to give help – especially to himself.
The very good cast and the excellent screenplay provide a lasting illustration of this particularly serious topic."
Director's Vision Award 2023: 'LAKADBAGGHA – HYENA'
with 'LAKADBAGGHA – HYENA'
Statement of the Programme Committee:
"Every creature deserves to be protected and treated with respect. We often forget that animals have feelings and feel pain, joy, sadness and happiness just like we do. We should always be aware of this.
Combining this topic in a film with great martial arts and an exciting story is not only successful, but also deserves, in our opinion, this year's Director's Vision Award.
Congratulations to director Victor Mukherjee and producer Anshuman Jha. We look forward to more films like this."
Audience Award 2023: 'The Storyteller'
Best Feature Film 2021: 'The Great Indian Kitchen'
Jeo Baby
with 'The Great Indian Kitchen'
Jury statement:
"The film 'The Great Indian Kitchen' pays homage to the young and strong Indian wife who tries to break out of old traditions and structures, longing for appreciation and self-development. Jeo Baby impressively manages to clearly flesh out each individual character in the oppressive routine between housework, Indian culinary art, and the self-sacrificing service to both the husband and the father-in-law. The film also manages to emphasize the blind spots of daily injustice on a homemaker which are always taken for granted by both women and men of the house. We were particularly impressed that Jeo Baby and his team succeeded in creating an exciting suspense arc, a firework for all the senses mixed with a subtle but haunting social criticism. Criticism not only relevant in India but all over the world where a stronger appreciation of women and equality to men is still needed."
Best Short Film 2021: 'Custody'
Ambiecka Pandit
with 'Custody'
Jury statement:
"The film 'Custody' uses a bouquet of interesting techniques to create a mood with great compositions and gaze. The casualness of the actors adds to the sense of life and the experience as a whole becomes incredibly immersive. The onus of carrying the story is on no one yet on everyone."
Best Documentary 2021: 'Watch over me'
Farida Pacha
with 'Watch over me'
Jury statement:
"The film 'Watch Over Me' is a deeply and impressive documentary that gives the viewer lessons in patience and empathy – values that are necessary in both life and filmmaking. 
Shot in black and white, the starkness never lets the film lose its purpose: to uphold the dignity of the dying and their families. It is a well-crafted, intimate, and respectful portrayal of the terminally ill and the three dedicated and compassionate women caregivers tirelessly attending to them. Its theme and treatment are also especially significant given the current times."
Honorable mention: Samarth Mahajan with 'Boderlands'
Jury statment: 
"The film 'Borderlands' shows a diverse selection of well-chosen and sensitive stories that are uniquely located along the borders of India but become universal in their humanity. We admire the filmmakers' craft, courage, and distinguished decisions, which created a powerful platform for the protagonists' stories."
Director's Vision Award 2021: 'Illiralare Allige Hogalaare'
Girish Kasaravalli
with 'Illiralare Allige Hogalaare'
Jury statement:
"The Director's Vision Award goes to Girish Kasaravalli for the film "Can neither stay here nor journey beyond" for expressing subtly and in a multitude of layers a poignant tale of alienation and class difference."
Audience Award 2021: 'The Tenant'
Sushrut Jain
with 'The Tenant'
Jury statement:
"The Director's Vision Award goes to Girish Kasaravalli for the film "Can neither stay here nor journey beyond" for expressing subtly and in a multitude of layers a poignant tale of alienation and class difference."
Best Feature Film 2020: 'Eeb Allay Ooo!'
Prateek Vats
with 'Eeb Allay Ooo!'
Jury statement:
"We loved the film for the originality of the story, with its characters whose voices we hardly get to hear in cinema. Just like in real life we look through them in cinema as a silent background. This film is about that silent Migrant struggling to survive in the city. It's a very intelligent setting to have this story unfold with the Parliament House and different Secretariats in the background. The highest seat of power of this democracy seems to be mocking this man trying to survive and not lose his dignity. The dehumanising process is heartbreaking. The cast is remarkably natural and believable. The fact that the film is shot on real locations with a minimal crew incorporating the documentary style of shooting adds to the authenticity of the film."
Best Short Film 2020: 'Natkhat - The Brat'
Shaan Vyas
with 'Natkhat – The Brat'
Jury statement:
"The film brilliantly addresses how gender stereotypes are created in the mind of a very young boy growing up in a patriarchal society. While exploring complex issues like domestic abuse in a very realistic manner, this film beautifully portrays the very delicate, yet powerful relationship between an oppressed mother and her son whom she is trying to raise differently. The unique narration style brings the poetic power of the film to life and is complemented by authentic acting and excellent editing."
Honorable mention: Atanu Mukherjee with 'Wig'
Jury statement:
"Setting side by side the marginalization of an unmarried woman with that of a transsexual sex worker, this film manages to address a familiar topic in a new, subtle and thought-provoking way.The film's excellent stylistic choices underscore its important message."
Best Documentary 2020: not awarded
Director's Vision Award 2020: 'Kumbalangi Nights'
Madhu C. Narayanan
with 'Kumbalangi Nights'
Statement of the Programme Committee:
"The Director's Vision Award goes to Madhu C. Narayanan for helming what makes 'Kumbalangi Nights' a brilliant debut, one that assembles a sophisticated script and elevated, focused performances portraying dysfunctional characters who find redemption through the power of love. 'Kumbalangi Nights' is spectacular at every level: perfectly orchestrated, multilayered storytelling alongside highly-rated natural acting in an Indian film and a sensitive score that blends with the stunning background of Kerala's backwaters."
Audience Award 2020: 'Uyare'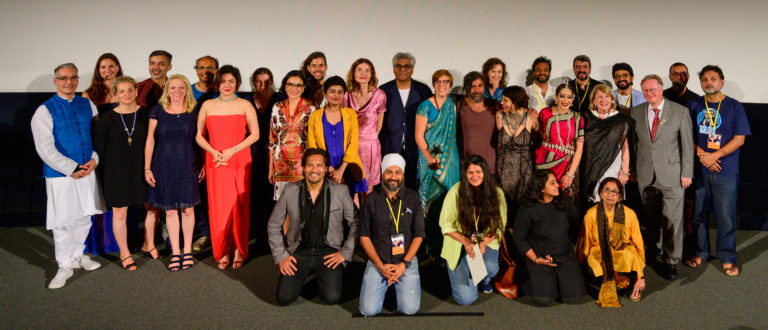 Best Feature Film 2019: 'Chippa'
Safdar Rahman and Celine Loop
with 'Chippa'
Jury statement:
"Rahman takes us on a journey where we accompany Chippa on his nightly adventure. Chippa navigates us through his reality, stern and humble, shrill and cheerful, hidden and revealed, surrounding his world as he struggles to translate the message in a letter from his long-absent father. 'Chippa' is a touching, humorous and creative film about dreams and finding oneself. The film offers great entertainment for all, with great venues, modern movie elements, its wonderful lead actor Sunny Pawar, great supporting roles, and the great screenplay by Rahman, and will surely appeal to a wide audience a la coleur and nationalities in the whole world. In Chippa's words, "life has just begun" and the way to the future is still full of surprises, adventure, chance encounters and confidence. A great message!"
Best Short Film 2019: 'Nooreh'
Ashish Pandey
with 'Nooreh'
Jury statement:
"As long as you keep your eyes open, the weapons are silent, as a girl in a small village on the Indian-Pakistani experiences. A village where death is part of everyday life, children count the bullet holes in the house walls on their way to school, and soldiers guard the border fence. Quietly and unobtrusively narrated, the film touches above all with its extraordinary yet simple idea: The girl Nooreh sacrifices her nocturnal sleep and thus creates peace in her village. Because only when she closes her eyes, there is a war. The film shows the challenge of a girl who defends herself both playfully as well as symbolically against the interests of the adult world with her childlike action: In the end, it is the children of the village who stop the war."
Honorable mention: Reema Sengupta with 'Counterfeit Kunkoo'
Jury statement:
"A woman is looking for an apartment. But in a patriarchal society, everything speaks against her: she cannot rent an apartment without a husband. "Counterfeit Kunkoo" sensitively portrays the young woman Smita, who hardly gets a chance to speak and yet stoically goes her way. Again and again we find the protagonist at the edge of the screen, almost slipping away from the film and its events. Reema Sengupta's film, with its observational and documentary effect, questions a male-dominated system without appearing judgmental. And at the same time shows his contradictions: because only by wearing a "bindi" (Kunkoo in Marathi) and thus pretending to be a married woman can Smita finally fulfill his wish for an apartment of his own."
Best Documentary 2019: 'About Love'
Archana Phadke
with 'About Love'
Jury statement:
"The German Star of India for the best documentary goes to 'About Love' by Archana Phadke. The director gives a very open and honest insight into the life and coexistence of three generations in Mumbai with the cinematic portrayal of her family. With a fine sense of everyday situation comedy, we get to know and love the family members. In this film, birthday songs are sung, a TV is being blow-dried, kites fly on the roof of the house and the filmmaker has to apologize to the father for putting on his socks. The harmless-looking everyday scenes are intimately interwoven by a wonderful montage. A sense of closeness is created through camera work and attention to detail. This impressed the jury very much. A fascinating, moving and sometimes amusing film that depicts a personal portrait of a middle-class family in today's urban India – and encourages us to be honest, open and relaxed."
Honorable mention: Sapna Bhavnani with 'Sindhustan'
Jury statement:
"We believe that 'Sindhustan' deserves special mention. Here is why: The partition of India in 1947 displaced an approximate 10 to 12 million people, with accompanying violence which left two million dead. Apart from the lives and lands lost, this caused a huge loss of culture. The film 'Sindhustan' is set against this background. Sapna Bhavnani, of Sindhi descent, was born in Mumbai and spent much of her life in a cosmopolitan city, until she realised she wanted to explore her cultural legacy. Not knowing much about her culture except the famous dish 'Sindhi Curry', 'Sindhustan' is an extremely experimental attempt at Sapna trying to rediscover her roots. What we found interesting is the juxtaposition of the cooking 'Sindhi Curry' along with the stories from her land. Food being a strong unbroken bond with culture, when most else is lost. When denied visa to visit her ancestral land, she etched the stories of her land on her own body as tattoos, thereby "bringing her land to her". It's like memories being etched in permanent ink. We found it very interesting how she weaved these aspects in her film through which she is trying to find her own roots. We have not seen this in too many films. We would really like to give her film a special mention for this."
Director's Vision Award 2019: 'The Last Color'
Vikas Khanna
with 'The Last Color'
Statement of the Programme Committee:
"The Director's Vision Award goes to 'The Last Color', directed by Vikas Khanna, who is based between New York and Mumbai. Vikas Khanna has professionally made a name worldwide as a Michelin Star Chef. With 'The Last Color' he makes his remarkable debut as a film director. The film was inspired by Khanna's shocking encounters with widows and street children in Varanasi, the sacred city in North India. In his own childhood and life, Vikas Khanna faced many barriers and impediments. With sheer grit and determination, he put these behind and made a remarkable career for himself as one the most vaunted chefs in the world. And now he presents his promising entrance into another world – the world of filmmaking."
Audience Award 2019 'The Last Color'
Vikas Khanna
with 'The Last Color'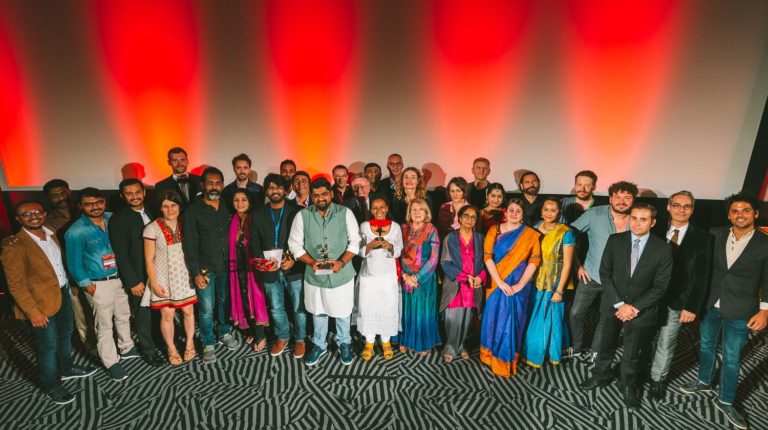 Best Feature Film 2018: 'Light in the Room'
Rahul Nair
with 'Ottamuri Velicham – Light in the Room'
Jury statement:
"The jury has decided to honour the film "Ottamuri Velicham – Light in the Room" by director Rahul Riji Nair from Kerala in South India. He initially worked as a software engineer, before borrowing the money for his first feature-length film from some friends. His film deals with an important issue which has not drawn much attention in India so far: marital rape. Young and naive Sudha, brilliantly played by young actress  Vinitha Koshy, is married off to Chandan. At first, she finds herself helplessly exposed to his increasingly violent outbursts of rage. But eventually, Sudha decides to defend herself.  The jury has been particularly impressed with the film's imagery and intense narrative style. The filming location, an old tea plantation surrounded by green hills, seems idyllic only at the beginning, but ultimately becomes threatening and turns into a prison for Sudha. The jury would also like to honour the fact that "Ottamuri Velicham" is a film in the Malayalam language spoken in the Indian state of Kerala, a region beyond the Bollywood film industry whose films usually receive more attention."

Left to right: Cary Rajinder Sawhney, Rahul Nair, Franziska Subramanian, Andreas Lapp
Best Short Film 2018: 'Pawasacha Nibandh - An Essay of the Rain'
Nagraj Manjule
with 'Pawasacha Nibandh – An Essay of the Rain'
Jury statement:
"The German Star of India 2018 in in the Short Film category honours a film which manages to impress with every minute. A film like a poem, or perhaps not at all. A film that crosses genre borders, oscillating between documentary and drama. The discreet camera observes a burdensome everyday life and gives the grippingly authentic protagonists all the space they need for their splendid acting. With the director's deep trust in the actors and the mood of the film, it shows with modest means and a small detail of everyday life the consequences of economic and social problems in Indian village life, in a subtle narrative which lets dramatic climax and conflicts take their natural course like an unstoppable river, rather than making an issue of them. To follow the call at the beginning of the film – find poetry in the ordinary – is easy at first, thanks to the picturesque images. But soon, the beautiful appearance is washed away by the film's real main protagonist, the ceaseless monsoon rain. In the film it is ubiquitous, soaking the actors, making a permanently murmuring sound, infiltrating even the sparse interiors and thus creating a constant pull which neither protagonists nor audiences can resist."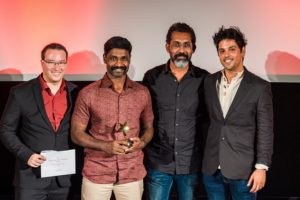 Left to right: Thomas Bünger, Balkrushna Manjule, Nagraj Manjule, Daniel Popat
Best Documentary 2018: 'Kho Ki Pa Lu - Up Down and Sideways'
Anushka Meenakshi und Iswar Srikumar
with 'Kho Ki Pa Lu – Up Down and Sideways'
Jury statement:
"Anushka Meenakshi & Iswar Srikumar's portrait of the village of Phek in Nagaland, its people, their work-songs and -music has deeply impressed us with its cinematic and narrative form and style. We enter the remote mountainous terrain, feel the physicality of work in the rice terraces and the singing's rhythm creating community and giving strength. The camerawork and slow, but rhythmic, editing create a sense of proximity and space for exploration, which we found daring and generous at the same time. "Up Down and Sideways" thus offers an intimate perspective on life in Phek without ever being intrusive. For us, the film develops a simple, but powerful idea – that, as one finds one's place through music in the communal rhythm of work, this may extend to the rhythm of life in the community as a whole. This happy notion is later juxtaposed with information about the conflict-ridden existence of the Naga people in modern India and their struggle to retain their way of life in the face of external imposition of control. However, a few plates and images suffice to introduce the conflict and its existential dimension without overtaking or breaking the sure form and style of "Up Down and Sideways"."
Director's Vision Award 2018: 'Love and Shukla'
Siddartha Jatla
with 'Love and Shukla'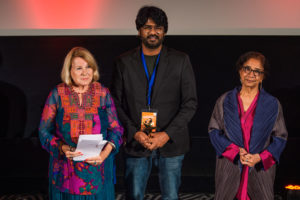 Left to right: Therese Hayes, Siddartha Jatla, Uma da Cunha
Audience Award 2018 'The Disciple'
Saraswathi Balgam
with 'Sisya – The Disciple'
Left to right: Saraswathi Balgam, Frederike Behrens
Best Feature Film 2017: 'Loktak Lairembee – Lady of the Lake'
Haobam Paban Kumar
with 'Loktak Lairembee – Lady of the Lake'
Jury statement:
"For the Best Feature Film the jury chose a film which takes an unflinching look at the conventions of cinema while telling a story which resonates with our times. In a subtle and poetic way the filmmaker and his team draws us hypnotically into a world between dream and reality. A world where fears of displacement, human rights, and the conflicts that we face about our home and our environment emerge in this work with great integrity and honesty. The jury recognizes the courage of conviction of the director and his entire team and awards the Best Feature Film to "Lostag Lairembee (The Lady of the Lake)" by Haobam Paban Kumar."
Best Short Film 2017: 'Azaad'
Rahul V. Chittella
with 'Azaad'
Jury statement:
""Asaad" is a skillfully executed short that touches upon many challenges of a middle class family in India. It narrates the convincing story of a father-son-relationship and thereby addresses the issues of the great financial challenge of private education and the relentless fight for the freedom of journalistic speech and expression. The film displays a strong and nuanced narrative, which weaves the personal and the political with refreshing equilibrium.  The impressive acting of the lead character, but also the appearance of a corrupt detective, who will not work until he gets an extra payment on the side, give insight to the difficult fight against the silencing of critical writers. The story gives voice to a reality that is very relevant to the current Indian socio-political landscape."

Honorable mention: Bernd Lützeler with 'Camera Threat'
Jury statement: 
""Camera Threat" – a playful dialog between analog and digital footage, actress and film director on a casting couch. It shows a strong filmmaking voice characterized by a unique stylistic and non-narrative/linear approach. Watching this skillfully arranged mosaic, the film takes us on a journey through the Indian film tradition and the desires connected to it. And this time, we travel beyond genres and categories. The jury wants to acknowledge the great experimental and self-referential approach. "Camera Threat" was a welcome departure from the majority of narrative fiction. Quirky, insightful and completely original."
Best Documentary 2017: 'The Cinema Travellers'
Shirley Abraham und Amit Madheshiya
with 'The Cinema Travellers'
Jury statement:
""Cinema Travellers" beautifully encapsulates cinema's universal appeal and how digital is slowly overtaking the film format, quite painfully for some. Set in the heart of rural India, it shows how cinema has a direct connection with the masses in the country and how seeing the moving images even in a makeshift temporary arrangement means the world to them. The film is beautifully shot, edited and narrated and is technically very accurate. It is quite obvious that the filmmakers love, know and understand their subject. The two men who bring this joy to the rural folks are trying to cope up with the mounting losses that are a result of worn out projectors and damaged film prints. But their passion is unbridled. As is that of the projector mechanic in his twilight years who has presided over a successful business now at its fag end. The filmmakers give the 3 stories room to develop and evolve by themselves and the end result is of both euphoria and melancholy. The projector increasingly feels like a living being and the viewer gains empathy with a craft which seems to be overtaken by modern technology. Thankfully the film is not nostalgic because it also shows that buying a digital projector gives new hope to the cinema owners to extend their business into the future. As for the vast number of viewers in rural India, they will get a chance to see good image quality as the old projectors of yore were always dimmed down to save bulb life, and the prints were always completely worn out. It's a universally debatable topic since digitization is slowly changing many aspects of our society, some for good and some for bad, leaving us only with the memories of the years gone by."
Director's Vision Award 2017: 'A Billion Colour Story'
Padmakumar Narasimhamurthy
with 'A Billion Colour Story'
Statement of the Programme Committee:
"The Director's Vision Award goes to the debut feature film 'A Billion Colour Story' for its gentle, moving and persuasive plea against a world torn and divided by religious differences, which becomes all the more meaningful when seen through the innocence of a 12 year old boy."
Audience Award 2017: 'Mukti Bhawan – Hotel Salvation'
Shubhashish Bhutiani
with  'Mukti Bhawan – Hotel Salvation'
Best Feature Film 2016: 'Thithi'
Raam Reddy
with 'Thithi' 
Jury statment:
"This year's jury was fortunate enough to experience fifteen exceptional films of such diversity and vibrance that collectively represent for us an Indian Independent filmmaking movement that is alive and well and maturing into a force to reckon with. We laughed, we cried, we were outraged, heartbroken and then uplifted. Choosing one of these fifteen is no easy task but that is the job… An old man, over a hundred years old, insults women and men on the streets of his village. Then he stands up, walks behind a house, kneels down, falls over and dies. And thus begins an absurdist social satire of epic proportions. With performances so remarkable it's hard to believe the cast is entirely non-professional. Understated yet poetic cinematography. And characters that develop with remarkable ease, their individual weaknesses revealed to us with humor and love. The jury awards "Thithi" – a remarkable first film and an endearing portrait of a world filled with characters that stay with you long after the lights come up."
Best Short Film 2016: 'Leeches'
Payal Sethi
with 'Leeches'
Jury statement:
"The jury is unanimously of the opinion that this film has a special meaning, as he picks up on a theme which rarely receives public exposure. Strong and weak women operate a business from which few profit and whose victims are released into a future without perspective. The precarious situation, the dismal financial circumstances and the lack of a way out are presented intrinsically and comprehensively. And it takes place in a society that systematically supports such practices and even documents them governmentally. From the start the film captivates through a slick, dramatic staging, featuring excellent acting performances and a tantalising, but never exaggerated, thrilling atmosphere, into whose events the audience becomes implicated in. The open end leaves the viewer in darkness and uncertainty, which leaves the feeling that change doesn't come about overnight and isn't without risk and danger. By addressing 'one day brides' and the related institutional doings, the director shows us how important films about fantasies of revenge and resistance are when it comes to addressing social problems."
Best Documentary 2016: 'Cecilia'
Pankaj Johar
with 'Cecilia'
Jury statement:
""Cecilia" is a film about human trafficking in India. A 14-year-old girl, Mati, is sold from her village in the north-eastern Tribal Belt by one of several dubious placement agencies to a wealthy couple in Delhi. It is there that she takes her own life. Her mother, Cecilia, who works in Delhi as a household helper, can't bring herself to believe what despair her daughter may have been in. She also had no clue that she was in Delhi. Together with the young couple, a filmmaker and a lawyer, whose house she helps in, she tries to get to the bottom of the situation. The filmmaker, Pankaj Johar, also directs this documentary. "Cecilia" shows the ugly underbelly of Indian society. Human trafficking, child labour, violence against the defenceless, extortion and corruption. The extreme social imbalance will become clear in the confrontation between the well-situation upper-middle class of Delhi and the impoverished rural folk. But the film also shows courageous and strong actors, who refuse to accept the dreadful things in their country and then fight to defeat them. Pankaj Johar manages to successfully switch between his roles as director and protagonist. He asks uncomfortable questions, including of himself. Like for example, when he realises that it is ultimately people like him and his wife who question cheap labour, and with it the entire system. But western audiences can't empathetically shake their heads and simply walk away, such is the injustice in multiethnic India. Instead they'll become fellow victims and likely because of it, become visibly uncomfortable. The story of individual destiny of Cecilia and her daughter is convincingly linked and dramaturgically and consistently interwoven, which far exceeds the relevance of the topic. In a nutshell, the buying public not only accepts the exploitation of the weak in their country in order to purchase cheaper Indian products but actually demands it. "Cecilia" is about guilt and the search for the truth and justice. It is a credit to the director that he didn't fall for the simplistic good and bad categories. The film poses even more questions after its climax than there were beforehand. Morality and justice as absolute values of humanity gradually lose their power of orientation in history with their increasingly complex and diffuse entanglements. Cecilia is a film full of conflict. The conflict between rich and poor, between human trafficking and (corrupt) justice, and even between the married couple, the director and his wife, whose relationship comes under strain of the case and its dangers are put to the test. All these conflicts are not resolved, just as little as the saga itself. The end is painful and truly heartbreaking. The filmmaker's wish, who sought out to achieve justice, remains unfulfilled. This process culminates in the succinct statement from Pankaj Johar at the end, that Cecilia lives in a world that is not his.  "Cecilia" is an engrossing film. Pankaj Johar cleverly traverses genres again and again, between documentary, investigative journalism and an exciting crime story. It doesn't come across as staged, but is the natural result of the director's work and process of cognition."
Honorable mention: Chandrashekhar Reddy with 'Fireflies in the Abyss'
Jury statement:
""Fireflies in the Abyss" leads the viewer into the world of illegal coal-mining in the north-east Indian federal state of Meghalaya. Most of the miners here come from Nepal and Bangladesh. The film sees a group of men, women and children, who work under degrading conditions in the so-called Rat Holes. Without a film team, but with a lot of empathy and vivid camera work, director Chandrashekhar Reddy portrays three generations, who seem to be caught in a cycle of hard work, alcohol and a gambling addiction. An abnormally cheerful musical composition sometimes lets hope surface with a better future."
Director's Vision Award 2016: 'Time of the women – Parched'
Leena Yadav
with  'Time of the women – Parched' 
Statement of the Programme Committee:
"For projecting with such honesty and deep understanding the private world of oppressed women in rural India thirsting for love, sex and freedom in defiance of patriarchal norms. With zest and vibrancy Leena Yadav elevates the struggles of these strong women into an inspiring portrait of liberation."
Audience Award 2016: 'Angry Indian Goddesses'
Pan Nalin
with 'Angry Indian Goddesses' 
Best Feature Film 2015: 'Court'
Chaitanya Tamhane
with 'Court' 
Jury statement:
"The film "Court" is a courtroom drama about an ageing poet accused of having driven a man to suicide with his lyrics, but it also follows the involved parties into their everyday lives. It's a feature film with an authentic portrayal of courtroom proceedings as well as the lifeworlds of characters depicted in an interesting and artistic manner. The film subtly draws our attention to the power of language as it is used in poetry and its limits in the legal context. It also reflects about the freedom of expression which is not only threatened by the state or the legal system but also by self-appointed guardians of culture. Though it is set in the specific local reality of contemporary Mumbai, the film is thus also about a globally relevant issue."
Best Short Film 2015: 'Journey [Safar]'
Pratyusha Gupta
with 'Journey [Safar]'
Jury statement:
""Safar"'s delicate approach treating difficult social realities and inflexible structures; the spare yet playful manner in which it deals with power and class relationships; the deceptive ordinariness of its plot, which in turn allows for visual poetry and creates space for strong performances, made the film the winner of this year's festival. The jury admired the filmmaker's subtle examination of social codes as she builds up a powerful story that is refreshingly free of bombast. The understated narrative was glued together by a haunting track by Tajdar Junaid."
Honorable mention: Satindar Singh Bedi with 'Kamakshi'
Jury statement:
"The jury was also highly impressed by Kamakshi, a unique, uncanny film with tremendous visual span, which investigates both character and ecological conditions. The filmmaker displays a deep understanding of the cinematic language as he uses large swathes of barren geography as a powerful backdrop to locate the unfolding of a significant human drama. In this surrealist depiction of an ancient myth, which also glances into current and future water scarcity, the filmmaker unifies portraiture with landscape, creating extraordinary tonality and texture. Sound of bells tied to sheep, a water filled boat, a woman being pulled out of a freshly dug up well, all create haunting imagery that lingers in the minds of the viewers well after watching the film."
Best Documentary 2015: 'Newborns'
Megha Ramaswamy
with 'Newborns'
Jury statement:
"The only nine minute long documentary "Newborns" by Megha Ramaswamy deals in a powerful manner with fears of the victims of acid attacks. The jury emphasises: The synergy of the distortion of the faces and the beauty of the poetry does not gloss over but documents vigour. The film gives an insight view into the inner conditions of the protoganists – both in private as well as in public space. "Newborns" does not withhold that fear is ever-present, nor does it downplay the persistent pain and the distortion."
Director's Vision Award 2015: 'The Silence'
Gajendra Ahire
with 'The Silence' 
Statement of the Programme Committee:
"The Director's Vision Award is given to the Marathi film "The Silence" for its courageous portrayal of a universal subject – the abuse of the girl child and of women. Set in Maharashtra, in its rural areas as well as its urban cities, the film takes into account the progress of women's emancipation, fighting for their independence and rightful place in society."
Honorable mention: Makarand Mane with 'The Quest [Ringan]' 
Jury statement:
"The Director's Vision Award bestows a Honourable Mention to the Marathi film Ringan for its inspiring story of the value of love, truth and honesty, told through the struggle of an impoverished farmer and his rebellious little son's yearning for a lost mother."
Audience Award 2015: 'India's Daughter'
Leslee Udwin
with 'India's Daughter' 
Best Feature Film 2014: 'Siddharth'
Richie Mehta
with 'Siddharth' 
Jury statement:
"The feature film "Siddharth" convinced the jury by it's serious topic, the outstanding work of the director Richie Mehta, the straight performance of the actors Rajesh Tailang and Tannishtha Chatterjee and it's coherent dramaturgy. Mahendra, a chain-wallah who is fixing broken zippers on the street and his family are living from hand to mouth. Thus a relative's offer that Mahendra's 12-year-old son could work at a far away factory for four weeks, comes right on cue. The boy hits the road and never returns. "Siddharth" deals with an entirely helpless father's desperate search for his son, he does not even have a photo of, that could help the police with their investigation. Kidnapped children end up either in prostitution, organ trafficking or as crippled beggars working for the mafia. Mahendra starts an unavailing quest and has to learn, together with the audience, about all the things that could have happened to his child. The film ends relentless and realistic. The boy cannot be found. Yet the family only can hold on and hope."
Best Short Film 2014: 'Tamaash – The Puppet'
Satyanshu Singh und Devanshu
with 'Tamaash – The Puppet'
Jury statement:
""Tamaash – The Puppet" is about Anzar, a young boy who needs to learn how to act independently and not to be jealous of the success of others. We witness the world of children, where major issues are broached such as envy, honesty, diligence, friendship and family. The cinematic language is coherent and compact. Set in the mountains of Kashmir, the film succeeds in recounting regional culture and mysticism with universal relevance. Direction, acting, images and sound pursue a clear vision and strike the right note for the magical story."
Best Documentary 2014: 'Millions Can Walk'
Christoph Schaub und Kamal Musale
with 'Millions Can Walk'
Jury statement:
"The documentary "Millions can walk" by the Swiss and Swiss-Indian directors Christoph Schaub and Kamal Musale about the Jan Satyagraha, the march for justice, convinces by it's subject, it's range and it's wealth of information as well as it's diversity of images. It is an important film in documentary aesthetic pictures on the non-violent protest march in the glistening sunlight to 400 km far away Delhi by 100,000 landless farmers and natives to fight together for a honourable existence. The film is thematically touching, demonstrates up close the enormous logistical effort people overcame together and addresses vividly the individual destinies of it's characters who are, very frankly, telling of their situations, motivations and feelings. Thus the film transports a mood representing the 100,000 Indians, who have been taking the strains of that march. It is a well-balanced film, both interesting and enlightening, on a contemporary not only Indian but global conflict."
Director's Vision Award 2014: 'Lakshmi'
Nagesh Kukunoor
with 'Lakshmi' 
Statement of the Programme Committee:
"The Director's Vision Award goes to Nagesh Kukunoor for the film "Lakshmi". He is awarded for bringing to the world an inspirational story of determination and courage on crimes against abuse of the girl child. The film focuses on the true story of one particular girl who leaves us with hope to fight for a better future."
Audience Award 2014: 'Astu'
Sumitra Bhave und Sunil Sukthankar
with 'Astu' 
Best Feature 2013: 'Filmistaan'
Nitin Kakkar
with 'Filmistaan' 
Jury statement:
""Filmistaan" is a poetic narration of a very serious political topic. It manages to reveal the truth about the unnatural divide that is created between common people who speak the same language and follow the same culture in a very simple narrative which touchs our hearts and raises questions of the political stance taken by several counties. This film is a fine example of the power of Art and is a befitting piece of work commorating 100 years of Indian Cinema. The performance of all the actors need special mention. On the whole "Filmistaan" is an entertainer with a very powerful message of a common man's spirit and brotherhood beyond borders."
Best Short Film 2013: 'Calcutta Taxi'
Vikram Dasgupta
with 'Calcutta Taxi'
Jury statement:
""Our differences make us who we are." A young art student is struggling to get back his belongings, which he believes to be stolen by a taxi driver. But things are slightly different. "Calcutta Taxi" is a lighthearted film, that touches big topics of today's India. It is well written, acted, and shot. The unique editorial style keeps you hooked through its fast pace and uses multiple views to tell an unexpected story about honesty. This is powerful and dynamic Indian cinema."
Best Documentary 2013: 'Salma'
Kim Longinotto
with 'Salma'
Jury statement:
"The unbelievable hard fate of the protagonist Salma fascinated and shocked us likewise. Locked-in in the familie`s house since her adolscence, without the possibility to go to school and to participate in life of society any longer, she escapes in a world of poetry. She begins to come to term with her life in poems. A breach of taboo. Kim Longinotto achieves to bring Salma`s world and that of her family very close to us. The characters in this film convince through their deepness. The directress succeed in making the point of view of every family member more understandable – no matter how strange seems to be the particular thinking for us. Furthermore the film captivates with his extraordinary and likewise reserved, sensitive cinematography and with his exciting dramaturgy."
Director's Vision Award 2013: 'Shahid'
Hansal Mehta
with 'Shahid' 
Statement of the Programme Committee:
"The director has to be highly commended for the choice of his subject – the true story of a selfless and dedicated human rights activist, who laid his life on the line  to defend helpless and often very poor victims of political prejudice. The film leaves the viewer more aware and motivated to stand up against injustices that we tend to overlook."
Audience Award 2013: 'The Rajiini Effect'
Kuvera und Nelson Sivalingam
with 'The Rajiini Effect' 
Best Feature Film 2012: 'Kshay'
Karan Gour
with 'Kshay' 
Jury statement:
"We, the jury, recognize Karan Gour, the director of 'Kshay', for his fearless approach to the portrayal of a young, artistically liberated mind, which is yet bound by economic restrictions and his aspirations towards more prosperity and wealth. The Indian metaphor of the symbol of the goddess of wealth 'Maha Lakshmi' being an object of obsession for the protagonist and her conflict between desire and logic was convincingly depicted with a remarkable synergy of story, images and sound. We particularly mention the stellar performance of the lead actress, Rasika Dugal. We congratulate the director, Karan Gour, on his creativity, courage and conviction."
Best Short Film 2012: 'Café Regular, Kairo'
Ritesh Batra
with 'Café Regular, Kairo'
Jury statement:
"A young couple meets at a café in Cairo. The woman confronts her counterpart – her fiancé – with her desire to explore their sexuality together before they are getting married, because she wants to be sure that she is making the right decision.Audiences gain a brief, yet very intimate insight into the inner lives of a young, Egyptian woman and her fiancé who enters into a dialogue only  after initial scepticism and indignation. An intimate testimony of a close, young couple who break down perceived traditional boundaries and pave their way into an open-minded, modern future. With only a few takes and using improvisation, the film deals with a taboo subject in a rapidly changing world in an easy and calm way. In the space of a few minutes, director Ritesh Batra provides deep insights into the wishes and needs of an open-minded, young Muslim generation, which is nevertheless still committed to the traditions of their parents. "Café Regular, Cairo" is a short, yet great film about the needs, conflicts and dreams in this world."
Best Documentary 2012: 'The Market'
Rama Rau
with 'The Market'
Jury statement:
""The Market" effectively manages to bring two very distant realities together: The family of a kidney patient in Canada and a kidney broker from a Tsunami stricken slum in South India. Presenting the emotional predicament of its well chosen protagonists the film doesn't give an easy answer to the moral dilemma of organ trafficking and continues to work in the mind of the audience long after its open ending."
Honorable mention: Raffaele Brunetti with 'Mother India' 
Jury statement:
""Mother India" accompanies an Indian middle class couple's quest for parenthood. While patiently and intimately observing its protagonists, the film's quiet images and very good montage convey a precise portrayal of Indian society, challenged by a booming fertility industry."
Director's Vision Award 2012: 'Shala' and 'Delhi in a Day'
Sujay S. Dahake
with 'Shala' 
and
Prashant Nair
with 'Delhi in a Day'
Statement of the Programm Committee:
"The Director's Vision Award goes to Sujay Dahake's Marathi film "Shala" for its authentic portrayal of school children coming of age in a repressive small-town society.
The Director's Vision Award also goes to Prashant Nair's film, "Delhi in a Day", in English and Hindi, for its layered look at the values of  Delhi's urban rich and their servants, exposed through the eyes of a visitor from abroad."
Audience Award 2012: 'Pad Yatra – A Green Odyssey'
Wendy J.N. Lee
with 'Pad Yatra – A Green Odyssey' 
Best Feature Film 2011: 'Udaan'
Vikramaditya Motwane
with 'Udaan' 
Jury statement:
"The film "Udaan" deals with the uneasy relationship between a father and his adolescent son. The word Udaan, means a flight of imagination. It is this that motivates the son, an aspiring poet and which infuriates the widowed father who would have him follow in his footsteps as an engineer. What is also most interesting is that the film looks at an industrial part of India rarely seen in the cinema and yet communicates in a way that is universal. Made by a first time director, it has a confidence and subtlety of which someone much more mature would be justly proud. It is with great pleasure that the Jury found themselves in unanimous agreement."
Best Short Film 2011: 'Tubelight Ka Chaand'
Shlok Sharma
with 'Tubelight Ka Chaand'
Jury statement:
"Like a fairy tale, the film tells the story of a little boy who is in love with the moon and tries everything he can to reach it. The strong emotional images of the film portray the sad and lonely life of a boy on the streets of Kolkata. At the same time, the director Shlok Sharma describes the boy's dream world with very poetic pictures. The contrast between these two worlds is reflected by camerawork which oscillates between light and darkness, fast editing, and the use of almost documentary-like commentary. With regards to form and content, the director of "Tubelight Ka Chand" has created an aesthetically and technically convincing short film, which at the same time is also a moving appeal for the power of dreams."
Best Documentary 2011: 'It's Cricket, no?'
Sudhir Aggarwal
with 'It's Cricket, no?'
Jury statement:
"Sudhir Aggarwal's "It's Cricket, No?" tells the story of how India's blind national cricket team makes their way to Britain – without governmental or societal support – in order to beat their English counterparts at blind cricket. The player's almost child-like enthusiasm and positivity transpose the audience into a world in which cricket is more than just a sport. It's a passion. It's love. Aggarwal effectively subverts the stereotype of the visually challenged as unable victims by introducing us to 14 committed and self-sufficient men. One player says: "Never trust a blind man with a camera." But this film shows that you can certainly trust them with a cricket bat. The skilful depictions of how the game differs from mainstream cricket along with the beautiful interplay of sound design and cinematography give a funny and moving first-hand account of this sport through the eyes of a blind person. Aggarwal's aesthetic sense of storytelling, continuous respect for his characters and a love for the sport make this film poetic. "They are ready to die for the game", says their coach. It is this very dedication, compounded with pride and tongue-in-cheek humor which inspires hope, trust and motivation — never pity."
Director's Vision Award 2011: 'Arranged Happiness'
Daniela Dar-Creutz
with 'Arranged Happiness' 
Statement of the Programme Committee:
"For its depiction of a traditional form of arranged marriage in India. The film humanises this practice as a collective family responsibility striving to find the best bridegroom within a restricted society. The film's impact increases with the director being an intimate participant in the narrative, both emotionally and professionally."
Audience Award 2011: 'Big in Bollywood'
Kenny Meehan und Bill Bowles
with 'Big in Bollywood' 
Best Feature Film 2010: 'Vihir – The Well'
Umesh Vinayak Kulkarni
with 'Vihir – The Well' 
Best Short and Animation Film 2010: 'Tanko Bole Chhe – The Stitches Speak'
Nina Sabnani
with 'Tanko Bole Chhe – The Stitches Speak'
Jury statement:
"The short film category deals to a large extent with the living situation in India and the controversy between traditional and modern ways of living. The film "The Stitches Speak" convinces with an entirely unpretentious observation of radical changes, political landslides, and dramatic, personal events in the form of miniature stories. The casual narrative style in combination with the distance created by the animation unfolds to reveal a powerful story. At the same time, the film creates a congruence of form and content. The embroidery is a means of expression for their experiences as well as a path to the future of society. The traditional handcraft is transferred into modernity. In doing so, the film gives the protagonist a voice in this new medium."
Honorable mention: Rahul Gandotra with 'The Road Home' 
Jury statement:
"The film changes perspective. A boy's quest for his identity changes the perception of ethnic belonging. Connected with an ironic view on the touristic enthusiasm for India, this film, instead of making the country an object of western perspective, offers surprising inside views. Nonetheless we don't have to miss out  on great pictures of the impressive landscape."
Best Documentary 2010: 'The Great Indian Jugaad'
Anandana Kapur
with 'The Great Indian Jugaad'
Jury statement:
"What is the connection between a vehicle that can only be recognized as a car at closer examination, a solar-Vespa, a Pizza, a European designer couch and street kids dealing with plastic bottles and drawings or corrupt civil servants? That is Jugaad – the comprehensive and stretchable word for the inventiveness that especially the underprivileged but also all Indians reveal when helping themselves through daily life. The film convinces with its originality of cinematography and montages and wins the audience over with a dramaturgy leading the viewer through a blind door only to reveal new versions of Jugaad. The well chosen protagonists have a good sense of humour and self-irony. The director manages to display the abstract notion of Jugaad by giving inside views with concrete situations of people of different social classes and regional descendents. The film shows great aspects of humanity and joy of living. Its universal message is the praise of improvisation within people."
Honorable mention: Lutz Konermann with 'Dharavi Slum for Sale' 
Jury statement:
"Dharavi, a slum in central Mumbai, is to be a 'global test subject' for socially sanitation, in which investors from throughout the world can make their profits. But is this manageable without neglecting the needs of the slum dwellers? The film impresses with its choice of protagonists who are followed over a longer period of time as well as the outstanding camera work and precise use of montage. Without being manipulative, it takes a stand. It is a informative as well as courageous documentary."
Director's Vision Award 2010: 'Road to Sangam'
Amit Rai
with 'Road to Sangam' 
Statement of the Programme Committee:
"The Director's Vision Award, instituted last year,  is given to a film that demonstrates a special, humanitarian perception in its content and making. This year the award goes to a film that endorses the bonding between different communities and faiths in a way that overcomes violence and personal differences to bring about peace and goodwill."
Audience Award 2010: 'Today's Special'
David Kaplan
with 'Today's Special' 
Best Feature Film 2009: 'Tahaan'
Santosh Sivan
with 'Tahaan' 
Jury statement:
"Santon Sivan managed to show in an impressiv way, a fatally destiny of the perspective of a child, for the eyes of a child. Discretion and the love for details, amazing pictutres without sentimentality and an excellent performance ensemble are the main topics of the quality of this fllm. It's also an enthusiastic masterpiece of film, which documents the variety of indian films."
Honorable mention: Satish Manwar with 'Gabhricha Paus'
Jury statement:
"The young director united in his debut a documentary view with an overwhelming  picture language. For his  complex parabel about an always changing world, he uses the  tragedy of men, who  commit suicide as a result of economic misery. The traditional gender  situation of specific male and female functions, doesn't work any more. While, in Manwars masterpiece, women lay offensive into the crisis, men feel self-pity and retreat of the community. "Gabhricha Paus" describes the male capitulation with furious humor, which offers another dimension for the film – beside the Indian localization it shows  disinterest."
Best Short Film 2009: 'Narmeen'
Dipti Gogna
with 'Narmeen'
Jury statement:
"This extensive movie convinces with its outstanding camerawork, excellent actors and an associative way of storytelling. The story concentrates on the splitting of India and Pakistan in the year 1947. The story of the young women Noor, who lost her daughter and is traumatized, tells a universal parable about approximation and conciliation. The film is more than up to date.because it broaches the issue of the religious conflict between Hindi, Sikhs and Moslems, without getting too effective or  educational. Dipto Gognas "Narmeen", who wrote the script as well, is  political, personal and poetic in the same way."
Best Documentary 2009: 'Supermen of Malegaon'
Faiza Ahmad Khan
with 'Supermen of Malegaon'
Jury statement:
"The dream of a big movie became true for the film maverick Nasir by shooting funny parodies of blockbusters. His new project is the individual adaptation of Superman. He is perfect in the high art of improvisation, especially with the effects and even the broken camera is repaired. Problems like the local breakdown of electricity are skillfully interwoven. With her documentary Faiza Ahmad Khan delivers so not only a portrait of the supermen, but also of the textile centre Malegaon in all its inconsistency and religious differences. The film convince with the irony of its protagonist, its lively humour and its lightness. He invites everybody to fulfill his/her own dreams."
Director's Vision Award 2009: 'Red Alert'
Anant Mahadevan
with 'Red Alert'
Audience Award 2009: 'Seven Days in Slow Motion'
Umakanth Thumrugoti
with 'Seven Days in Slow Motion'
Best Feature Film 2008: 'Amal'
Best Short Film 2008: 'Blood Brothers'
Vishal Bhardwaj
with 'Blood Brothers'
Best Documentary 2008: 'It's a Boy!'
Vani Subramanian
with 'It's a Boy!'
Audience Award 2008: 'Ore Kadal'
Shyamaprasad
with 'Ore Kadal'
Best Feature Film 2007: 'Apna Asmaan'
Kaushik Roy
with 'Apna Asmaan' 
Best Short Film 2007: 'Spandan - The Heart Beat'
Saillesh Dupaare
with 'Spandan – The Heart Beat'
Best Documentary 2007: 'Q2P'
Audience Award 2007: 'Outsourced'
John Jeffcoat
with 'Outsourced'
Best Feature Film 2006: 'Mixed Doubles'
Rajat Kapoor
with 'Mixed Doubles' 
Best Feature Film 2005: 'Hari Om'
Bharat Bala
with 'Hari Om' 
Jury statement:
"The jury enjoyed the light and happy atmosphere of the movie. The picture opens an enchanted view from two perspectives – India and Europe – on the Indian region of Rajasthan. All the characters in this triangle story are either on the run or on a quest in front of the backdrop of a wonderland named India. Strong pictures, convincing actors, a perfect script and a director who knows how to navigate the dire straits between comedy and melodrama. The feature film "Hari Om" is entertainment at its best, and the Jury strongly believes that it has great potential to find its way to the European cinemas."
Best Feature Film 2004: 'Khamosh Pani – Silent water'
Sabiha Sumar
with 'Khamosh Pani – silent water'
– awarded by the audience –